Ho Tram Tourism - Vung Tau
Ho Tram is located in Xuyen Moc district, Ba Ria - Vung Tau province. Ho Tram is a long coastline between Long Hai and Binh Chau. Ho Tram Beach is noisy, noisy but captivated by the clear blue water and smooth white sandy beach creating a wild beauty but very gentle. This is an extremely new and new destination that tourists should discover when having a chance to travel to Vung Tau.

The road to Ho Tram beach for many people is a special road, leaving many unforgettable experiences for visitors when passing. The quiet road from Vung Tau city to Ho Tram lasts about 30km. Along the road are cherry blossoms always blooming flowers, making the road more poetic and romantic.

Ho Tram has a tropical monsoon climate with 2 distinct seasons: the dry season and the rainy season, along with that thanks to the sea breeze that Ho Tram is cool all year round. So you can travel to Ho Tram any time of the year, each season Ho Tram has its own beauty to discover.

Ho Tram is considered a picture of harmony with the colors of the sea, the forest and the wildness of nature. To Ho Tram beach, visitors will enjoy a completely different space than Long Hai beach or Vung Tau sea.

Ho Tram Beach is comfortable with long, white sandy beaches and turquoise waters bathing in the bright yellow sunshine, making the natural landscape here more vibrant, mesmerizing and tourists. The sand in Ho Tram is also very special, it is not as yellow as the sand in Vung Tau beach but slightly turned pink, adding a little light under the golden sun shining and striking in the blue sky.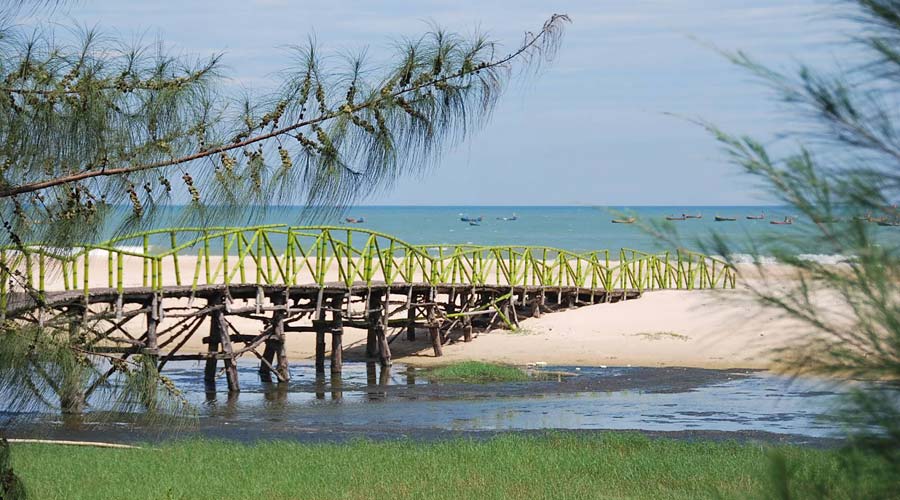 Along the coast is a windy poplar forest year round. Sitting listening to the waves of the waves on the golden white sandy beach, you will quickly forget the worries and thoughts of everyday life and immerse yourself in the wild nature here.